Please plan to drop in for Student Led Conferences:
Wednesday, April 13 – 4:00-7:00 pm (REGULAR SCHOOL DAY)
Thursday, April 14 – 4:30-7:30 pm (REGULAR SCHOOL DAY)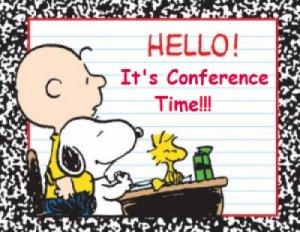 Friday, April 15 – 8:00-12:00 & 1:00-4:30 (NO SCHOOL)
Monday, April 18 – NO SCHOOL
For those families that have not had any experience with Student Led Conferences, they are designed for your child to have an opportunity to show you what they are doing in their classroom (your child will come with you to the conference). There are no appointments needed, you can drop in anytime during the scheduled conference hours. If your child's teacher feels they need to communicate more with you, they will reach out to you.